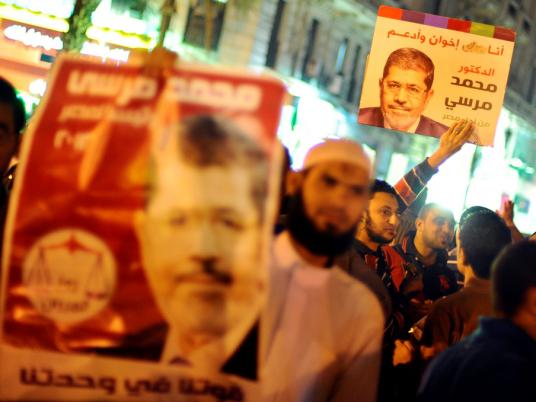 State-owned newspaper Al-Akhbar reported Thursday that President Mohamed Morsy is likely to set the nation's upcoming parliamentary elections for some time in May, according to unnamed sources in his government.
Meanwhile, independent newspaper Al-Shorouk said the president is expected to make an "unprecedented" speech that would tackle upcoming economic measures. The paper also cited anonymous government officials as saying Morsy "trusts these measures will win him public support, particularly since they target the middle and poorer classes."
Observers say that although Morsy has been in power for less than a year, he has already made several blunders that have turned some of the public against him and sparked recent conflicts between protesters and security forces.
The newspaper reported that Morsy is responsible for raised tensions between the judiciary and his government after issuing his much-discussed 22 November constitutional declaration, giving himself full executive powers and rendering the judiciary powerless over his decrees. Public outcry eventually forced him to renege on most aspects of the declaration.
Worse still, Morsy has failed to present a sound plan to save the economy as foreign reserves continue to fall, reports Al-Shorouk. The Central Bank of Egypt said reserves had slumped to just over US$13 billion as of January, versus $37 billion in 2011 when Hosni Mubarak was still in power.
Critics have accused Morsy of being unable to understand just how much trouble Egypt is in by failing to implement measures to address the struggling economy.
Al-Shorouk also reported that Morsy is expected to announce a series of sales tax increases on seven products instead of 25, which include cigarettes, liquor, bottled water, carbonated drinks, steel, cement and mobile phone use. In December, the government tried to hike taxes on 25 products, but backtracked only hours later, fearing public outrage.
Mamdouh Omar, the head of the Egyptian Tax Authority, said the government has decided that tax increases should be moderated by social dimensions, adding that the government will not increase taxes on oils and fertilizers, to prevent a huge jump in prices for these items.
The sales tax reforms are part of a financial program to boost revenues and strengthen Egypt's negotiating position during talks with the International Monetary Fund over a $4.8 billion loan.
Last year, the government presented a similar plan to the IMF, including its plan to raise taxes on 25 consumer goods and reforms to income tax laws. However, talks stalled when the government reneged on implementing the widespread reforms.
Al-Shorouk predicts that Morsy will try to further woo disenfranchised citizens by increasing funding on subsidized milk for children, promising to reform health insurance within a year and a half, raising social insurance pensions and including a development plan targeting public hospitals and the construction of new state facilities.
However, the paper did not say whether the president plans to scrap other contentious points from the failed December reform package.

State daily Al-Akhbar predicts the president will also tackle the amendments made to the elections law by the Shura Council. The paper says the party that wins a majority in the new House of Representatives will share in the formation of the new cabinet.
It still remains unclear whether the opposition, and its biggest bloc — the National Salvation Front — will take part in the election, since the polls do not have to be monitored by domestic or international NGOs.