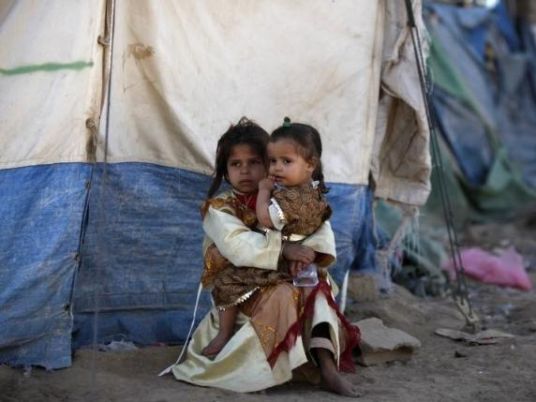 More than 500 children have been killed since the upsurge in violence in Yemen in March, while some 1.7 million youths are at risk of malnutrition, the United Nations said Friday.
During the six months since Saudi-led airstrikes targeting Yemen's Iran-backed Huthi rebels began in March to defend embattled President Abedrabbo Mansour Hadi, at least 505 children have died and 702 have been injured, said Christophe Boulierac, spokesman for the UN children's agency.
"These are conservative figures," he told reporters in Geneva.
He said the children were being killed in the bombing campaigns but also amid street fighting.
"The situation for children is deteriorating every single day, and it is horrific," Boulierac said, urging all parties with influence to bring an urgent end to the violence.
He also lamented a sharp increase in the recruitment of children as fighters in the war-ravaged country, with 606 verified cases so far this year.
That is four times the 156 cases verified in 2014, he said.
"Children in Yemen are being used by armed groups, manning checkpoints or carrying arms," he said, adding that "the recruitment is happening on both sides."
In the impoverished country, where 80 percent of the population is under 18, some 10 million children are in desperate need of humanitarian aid, Boulierac said.
The dire humanitarian situation, along with underfunding of aid organisations and difficulty accessing those in need could prove deadlier for Yemen's children and the violence, he warned.
"We know that more children (could) die from preventable disease than from bullets and bombs," he said.
The nutrition situation, which already before the conflict was dire in Yemen, has meanwhile worsened significantly, he said, pointing out that 1.7 million children were at risk of malnutrition.
The number of children under five at risk of severe acute malnutrition has tripled this year to 537,000, up from 160,000 before the conflict, Boulierac warned.
The United Nations says at least 2,355 civilians have been killed in Yemen's conflict since late March, and another 4,862 injured, Colville said.
Some 1.4 million people have meanwhile been forced to flee their homes.
Meanwhile, a European-backed resolution calling for a UN investigation into rights abuses committed during the conflict was withdrawn this week due to pressure from Saudi Arabia.
The Dutch-drafted UN rights council proposal had called for a full inquiry into violations in Yemen since September 2014.
Saudi Arabia, which was totally opposed so such a probe, introduced its own watered-down proposal on Yemen, which instead supported a domestic probe.
After securing the support of the US and Britain, the Saudi resolution was adopted by the UN's top rights body on Friday by consensus.