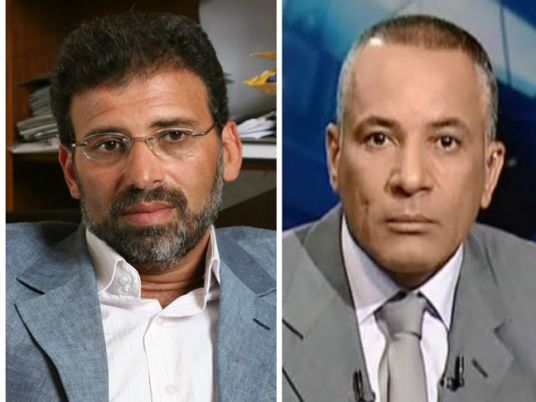 Sada el-Balad presenter Ahmed Moussa offered an apology to movie director and MP Khaled Youssef for airing personal photos of the man after the Journalists' Syndicate unanimously backed the adoption of disciplinary measures for the controversial journalist.
Last week, Moussa, widely believed to have strong connections with security services, revealed intimate photos allegedly depicting Youssef with an unidentified woman. He suggested that Youssef's immorality should be questioned since he is now a parliamentarian, asking him to announce whether the photos were really his.
Moussa's actions drew sharp criticism from media colleagues, as well as social network users.
During his show on Saturday, Moussa offered an apology to Youssef, noting that the latter had not filed a legal complaint against him. "I will stand by you and support you, we shall leave the photo issue to the judiciary," Moussa said, addressing Youssef. He said his dispute with Youssef was "used for political purposes".
Meanwhile, the Journalists' Syndicate said it approved, in a meeting on Saturday, demands by more than 57 of its members to implement disciplinary measures against Moussa that could lead to his dismissal from the syndicate. Members behind the move accused Moussa of violating journalism ethics.
Edited translation from Al-Masry Al-Youm