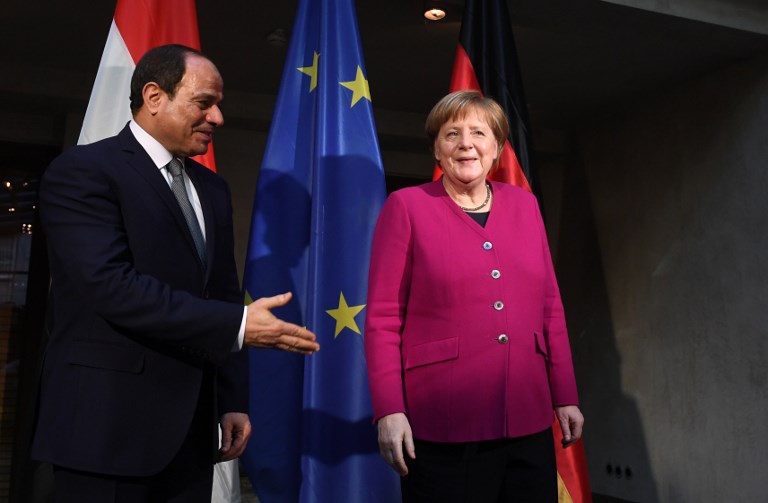 Egyptian President Abdel Fattah al-Sisi left for the German capital of Berlin on Sunday to attend the G20 Compact with Africa (CWA) meetings.
The spokesperson for the Egyptian Presidency, Bassam Rady, said that the G20 CWA aims to boost the economic cooperation between Africa and G20 countries through joint ventures that contribute to accelerating the continent's growth.
The President's visit to Germany will include intense bilateral activity, as Sisi is scheduled to meet with German Chancellor Angela Merkel to strength bilateral ties between Egypt and Germany across various fields, in addition to exchanging views on the developments of regional and international issues of common concern.
President Sisi is also set to meet with business leaders and heads of major German industrial companies, as part of Egypt's efforts to encourage investment and promote comprehensive development efforts.
This alongside reviewing the developments of Egypt's economic reform, and developments in the implementation of projects underway.
The G20 CWA was initiated under the German G20 Presidency to promote private investment in Africa, such as in infrastructure.
Its primary objective is to increase the attractiveness of private investments through substantial improvements of the economy, business and financing frameworks.
The CWA brings together reform-minded African countries, international organizations and bilateral partners from G20 and beyond to coordinate country-specific reform agendas, support respective policy measures and advertise investment opportunities to private investors.
The initiative is demand-driven and open to all African countries.
Since its launch in 2017, the CWA has sparked great interest, and so far, twelve African countries have joined the initiative: Benin, Burkina Faso, Côte d'Ivoire, Egypt, Ethiopia, Ghana, Guinea, Morocco, Rwanda, Senegal, Togo and Tunisia.
Edited translation from Al-Masry Al-Youm