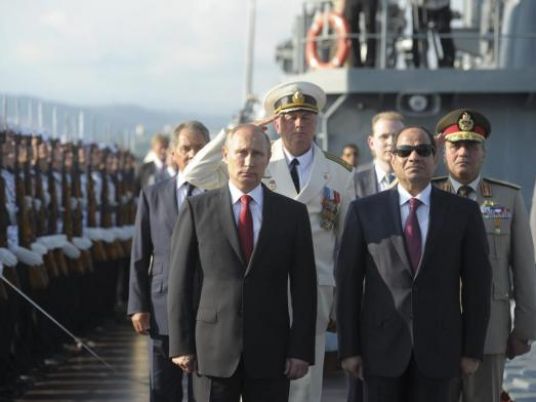 n the clear, blue skies over Zhukovsky, an air base south of Moscow, Russia's newest warplanes screech past, looping noisily over the spectators below. A civilian airliner is put through its paces for potential clients. A giant transport helicopter lumbers through an unlikely aerobatic routine.
Russia's most high-profile arms fair, MAKS (International Aviation and Space Salon) is in full swing, with representatives from more than 20 countries perusing the enormous hangers where Russia's cutting edge weapons systems are on display and on sale.
In the missile pavilion, the delegation from Iran circle a display of tactical weapons, touching the smooth painted metalwork, snapping photographs of the latest military technology.
"We are considering it," he replied in perfect English.
"But then we want to decide," he added, as we were shuffled away by security.
Russia's most controversial arms deal is close, it seems, but not yet finalized.
S-300s are impressive weapons, capable of simultaneously tracking and intercepting dozens of airborne targets up to 150 km (93 miles) away. Washington and Israel know they would painfully complicate any future strike on Iran's nuclear facilities. Little wonder, then, that Tehran wants them so badly.
A deal was first done back in 2007, but the Kremlin halted the sale under international pressure.
The revival of the contract comes after a long-negotiated agreement to curb Iran's nuclear ambitions. It could open the way for more arms sales, deals on Russian-built civilian airliners, and even a multi-billion dollar network of nuclear reactors that Iran wants built.
But for Russia, and President Vladimir Putin, the Iran deal is about more than trade. It sends a key message: the Kremlin has a strategic role to play in the Middle East.
Since the collapse of the Soviet Union, the Kremlin's once powerful influence in the region has waned.
A series of U.S.-led military interventions in Iraq and Libya, as well as the popular uprisings of the "Arab Spring," also eroded Moscow's leverage.
But the tide is starting to turn — or at least that's what the Kremlin hopes.
In Moscow this week Putin is hosting Egyptian President Abdel Fattah el-Sisi for the third time this year. The two men appear to share a personal bond, as well as an autocratic leadership style.
When General el-Sisi overthrew Egypt's first democratically elected president in 2013, the U.S. shunned him.
Putin, by contrast, embraced his fellow strongman. This year, Putin presented el-Sisi with a personalized Kalashnikov, and subsequently boosted trade links with Egypt by 86%, according to the Kremlin, including arms sales.
Crucially for the Kremlin, the relationship may be leading to growing Russian diplomatic clout too. El-Sisi hinted as much in Moscow this week.
"With each our meeting the people of Egypt look with hope on the perspective of our relations' development in various spheres — and not only in the sphere of economy, but the sphere of the fight against terrorism, particularly in the region," el-Sisi told reporters.
Moscow's overriding area of diplomatic concern is Syria, one of Russia's most longstanding Middle Eastern allies. If the regime of Bashar al-Assad falls — to ISIS, or any other rebel group — the Kremlin worries its influence in the region will fall too.
A flurry of diplomatic activity in recent days has seen Putin also host the King of Jordan and the Crown Prince of Abu Dhabi — not traditional Kremlin allies — in an apparent effort to boost trade and woo regional leaders into an anti-ISIS coalition, which would, of course, include the Syrian government.
So far, however, there have been few takers. Moderate Syrian opposition groups, their Saudi Arabian backers, and Washington, are all mistrustful of Russia and balk at Moscow's insistence on keeping al-Assad in power.
But the Kremlin appears to be carving out a unique and increasingly influential position in a region where it once held sway.