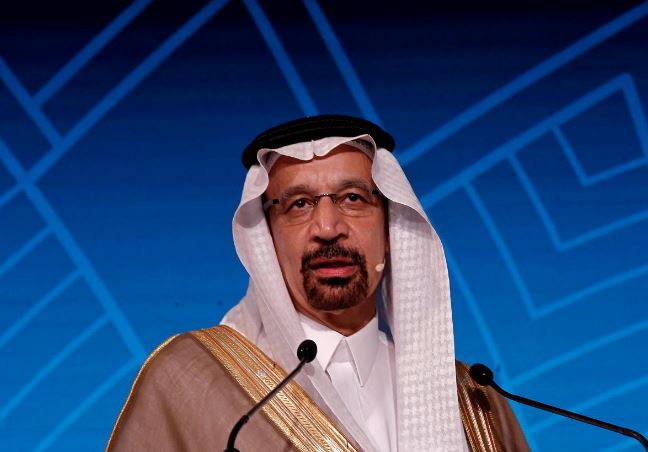 ABUJA/MOSCOW (Reuters) – Saudi Arabia will not cut oil output on its own to stabilize the market, Energy Minister Khalid al-Falih said on Wednesday as Nigeria and Russia said it is too early to signal whether they would join any production curbs.
Oil producer group OPEC and its allies, led by Russia, meet in Vienna next week against the backdrop of concerns over a slowing global economy and rising oil supplies from the United States, which is not involved in an existing agreement to restrain output.
The negative economic outlook helped to push oil LCOc1 below $60 a barrel this week from as high as $85 in October, prompting Saudi Arabia, the de facto leader of the Organization of the Petroleum Exporting Countries (OPEC), to suggest significant production cuts.
Riyadh, however, has come under renewed pressure from US President Donald Trump, who asked the kingdom to refrain from output reductions and help to lower oil prices further.
Possibly complicating any decision on oil output is the crisis around the killing of journalist Jamal Khashoggi at the Saudi consulate in Istanbul last month. Trump has backed Saudi Crown Prince Mohammed bin Salman despite calls from many US politicians to impose stiff sanctions on Riyadh.
Falih was in Abuja to meet his Nigerian counterpart Emmanuel Ibe Kachikwu. The Saudi minister said signals from fellow OPEC members Iraq, Nigeria and Libya were positive ahead of the group's Dec. 6 talks because all ministers want to restore oil market stability.
"We are going to … do whatever is necessary, but only if we act together as a group of 25," Falih told reporters, referring to OPEC and its allies. "As Saudi Arabia we cannot do it alone, we will not do it alone.
"Everybody is longing (to) reach a decision that brings stability back to the market … I think people know that leaving the market to its own devices with no clarity and no collective decision to balance the market is not helping."
Brent oil LCOc1 edged down towards $60 on Wednesday, erasing early gains of more than 1 percent, with the market unconvinced on the prospect of OPEC cuts next week.
Putin backs $60 oil
Russian President Vladimir Putin will meet Crown Prince Mohammed in Argentina at this weekend's G20 summit, which Trump will also attend.
Moscow has so far resisted joining any new production cuts and Falih did not say whether he had heard of any change in Russia's position.
Speaking in Moscow, Putin said Russia was in touch with OPEC but Moscow would be satisfied with oil at $60 a barrel. Putin previously said Russia would be satisfied with a price of $70.
"We are in contact with OPEC and we are ready to continue our joint efforts if needed," Putin said.
Russian energy minister Alexander Novak met Russian oil producers this week to discuss cooperation with OPEC, two industry sources said without providing details.
Nigeria's Kachikwu told reporters it was too early to say whether OPEC member Nigeria would participate in any cuts but added that there was "absolute resolve" within the organization to stabilize the market.
Wall Street edges higher
Falih this month said that the abundant supply of oil could require OPEC and its allies to reduce output in 2019.
He said at the time that supply could exceed demand by as much as 1 million barrels per day (bpd), or 1 percent of global demand, suggesting that OPEC and its allies may try to reduce production by that amount.
Asked on Wednesday whether cuts could be deeper than 1.4 million bpd, Falih declined to answer.
Nigeria and Libya were excluded from the previous cuts because of production declines caused by unrest, though their output has now recovered. Iran was also largely exempt from cuts.
Reporting by Paul Carsten; Writing by Dmitry Zhdannikov; Editing by Dale Hudson and David Goodman.