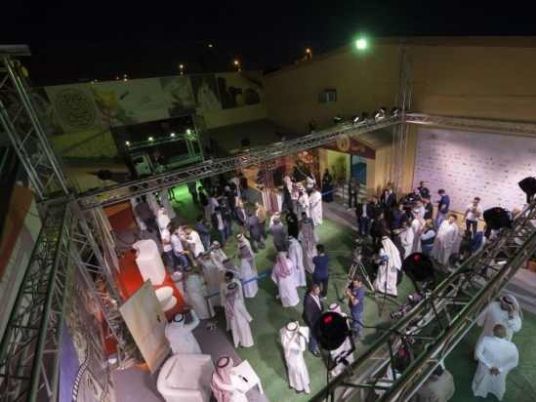 The "red carpet" was made of green artificial turf and women wore traditional black robes instead of plunging necklines when the third Saudi Film Festival opened yesterday night.
About 400 enthusiastic film fans filled a hall for the opening ceremony at a culture and arts centre in the Gulf coast city of Dammam. Although public cinemas are banned in the conservative kingdom, which practises an austere version of Islam, there is a growing interest in cinema and filmmaking.
Saudis are voracious viewers of online videos and rank among the world's top viewers of YouTube. Private film screenings are also held in the kingdom, although the festival's English programme says it takes place "under the supervision" of its organiser, the Saudi Arabian Society for Culture and Arts, and the information ministry.
Yellow and purple lights swirled on the ceiling before the hall darkened. A six-metre screen showed trailers from among the 70 Saudi productions competing at the five-day festival, while six speakers mounted high on the walls blared cinema-strength sound.
Women sat at the back, in keeping with the kingdom's official policy of separation of the sexes, but almost none covered their faces, as many in the capital Riyadh normally would. Some even went without the traditional hair covering. Men were in front on red chairs — not plush theatre seats but the kind commonly used in banquet halls. They hooted and loudly applauded the opening remarks of festival director Ahmed AlMulla before watching a tribute to the late Saad al-Fruraih, a pioneering Saudi television director.
Building momentum, opening night gave a world premiere to three of the festival entries. Rakan AlHarbi's fantasy, Their Stained Hearts, tells the story of a museum for "terrorists" and the conversation a visitor has with a wounded bomber lying bloodied among his victims.
Hope, is a thought-provoking drama by Hajar Alnaim about mercy killing, and Mohammed Salman's delightful documentary Yellow features taxi drivers in Qatif city.
Earlier, film fans crowded onto the "green carpet" in a courtyard, posing for photographs not by paparazzi but by the festival's photo team with "media" emblazoned on their shirts.
AlMulla told AFP the red carpet that he planned did not arrive in time, but the green one did just fine. It became a crowded platform for some young men who dispensed with their traditional white Saudi thobes and checkered shemagh headdress. Instead, they wore pork pie or Andy Capp hats, bow ties, permed hair and twisted moustaches. Organisers hope the event will help develop the country's nascent film industry.
"We try to raise the standards, to make it better," AlMulla told AFP.
This is the second consecutive annual festival after the event resumed last year following an absence of seven years. The festival will culminate on Monday night when winners receive Golden Palm Tree trophies in the drama, documentary and student categories. Scripts not yet in production are also judged.
Mai Alshaibani, 21, is hoping for a win with her first-ever screenplay S.A.D., the story of Ahmed and his girlfriend Sara whom he leaves to marry Dina.
"We have a lot of support from the youth," AlMulla said. "Nobody can stop them." A filmmaker in the Saudi Red Sea city of Jeddah about a month ago organised the first Youth Film Fest.
"I think this momentum is going to continue to build," said Bentley Brown, an American who teaches at Jeddah's Effat University for women, which offers the kingdom's only filmmaking programme.