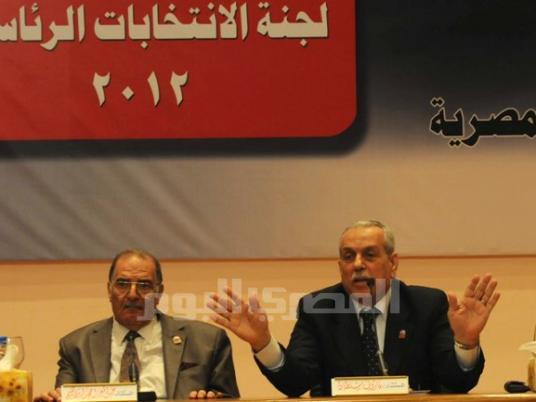 Egypt's ruling generals called on Egyptians, presidential candidates and political forces to change the month of June from a time to mark the Naksa into a month celebrating "victory and dreams," in a post on their Facebook page Tuesday.
The Supreme Council of the Armed Forces' Facebook page described the election of a new president for the country as "a golden opportunity" for the nation to get rid of the sadness attached to the month of June, which marks the "anniversary of the bitter 1967 [Arab-Israeli War] defeat."
The page said that the new president, whose name would be declared at the end of June, would bear a huge responsibility in the coming years.
"We are not in the process of discussing which of the candidates is more fit. We have a neutral stance toward all candidates. That was the pledge we made and we will, God willing, fulfill it," the statement said.
Protesters demonstrating against the presidential election results — which sent Hosni Mubarak's last prime minister, Ahmed Shafiq, to a runoff with Muslim Brotherhood candidate Mohamed Morsy — set Shafiq's campaign headquarters on fire Monday, witnesses said.
The event underscores the divisive outcome of the country's historic vote last week. Egypt is set to vote in the runoff election on 16 and 17 June.
The SCAF called on the candidates to address the entire nation and explain their electoral platforms with clarity and transparency. It urged them to feel the problems Egyptians have and to reassure the people about their own and their children's futures through the communication of clear plans.
"We are a nation that will not accept glowing promises that turn into a mirage," the message read.
The message emphasized that the people want a strong state where they have the say, and called for the adoption of carefully studied platforms that have specific timelines.
It called on political powers to be "kind to the people."
"We do not want illusory or side battles, for there are only a few days left for the people to make their choice. Let us work to turn the Naksa month into another victory. Let the day Egypt has its first democratically elected president be a national day," the statement said.