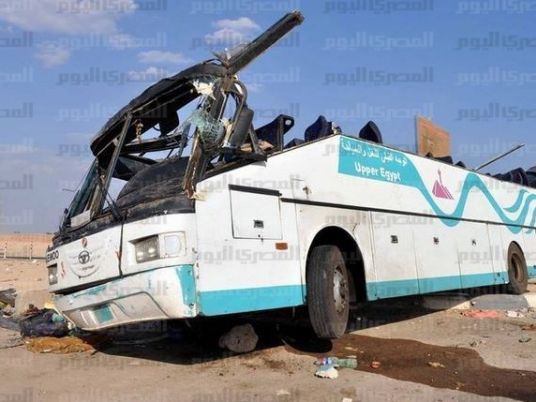 Two people were killed and 43 others were injured in a bus rollover accident on the new international road in South Sinai Governorate, 25 km from Sharm el-Sheikh, Youm7 news website reported.
Assistant Minister of Interior and head of South Sinai Security Directorate, Sherif Raouf, received a notification from the Police Rescue Service stating that an accident occurred for a bus belonging to a travel agency on the new international road, 25 kilometers before Sharm el-Sheikh.
It added the accident resulted in the death of two people from Minya namely Abraham Samy Turkey, 30, and Ayman Boktor Abdo, 39 who were taken to the morgue of Sharm el-Sheikh Hospital. Forty three others who were injured were transferred to Sharm el-Sheikh International Hospital to receive the necessary treatment.