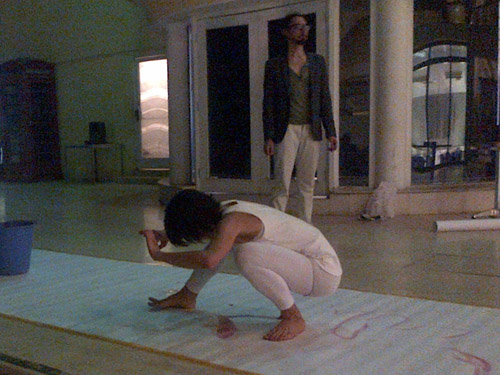 An audience of about 25 people sat in a row of chairs in the garden of the British Council in Agouza on Friday night, facing a slightly raised area before the building. Some were looking at a woman in a glittering costume of mirrored mosaic, which covered her whole body, including her head. She silently struck poses while an introductory talk was made and sponsors were thanked.
As she wandered off, a woman in Union Jack wellington boots and a dress came forward from the audience. She had a distinct British accent, a sheaf of papers, and an umbrella just in case. Competing with traffic noises from the street outside, she theatrically read out a list of questions and instructions on how to watch the performance.
"Are you aware that some performers are participating in order to gain entry to the country and have no intention to return to the UK?" was the first question I heard clearly, followed by a mention of terrorist cells. "Do you know that many students at the British Council are only studying here so they can emigrate, not because they love Shakespeare?"
"Please turn off your phones if you haven't already."
The audience members quickly got into the spirit of the thing and laughed. "Did you know that not all Brits are Christians?" she demanded, pacing up and down and addressing them directly. "When was the last time you saw a contemporary dance performance?"
After a few minutes in the same vein, her phone rang and she turned away to take the call. On hanging up, she announced in an official tone that the performance had been cancelled, as the British performers' visas did not permit work.
"Please keep in mind that the performance may have been a bad performance. No performance is better than a bad performance. I'm really sorry, but it's for your own safety."
After she disappeared, there was a break while a woman in a white tank top and leggings came out and taped a meter-wide strip of paper to the ground, maybe 10 meters long.
She then stood and recited a rhyming poem referencing various artworks from the past 50 years, focusing exclusively on "outrageous" elements. Piero Manzoni's work where he sold cans of his feces, Chris Ofili's paintings that include elephant dung, Elke Krystufek's drinking her own urine, and Maurizio Cattelan's "crucifixion" of his gallerist all made the cut, along with quite a few others.
One couplet was repeated: "I want to take part in art history too / But you can only do what's right for you."
Having then invited the audience to come closer, she went to one end of her strip of paper and, licking it continuously, crawled to the other end. With that over, she went back to the beginning and pulled on some shorts with a paintbrush attached, so it hung from her crotch. She dipped it in a bucket of red paint and began making her way along the paper again, making red brush marks.
"I wish I had a bigger paintbrush," she laughed.
The bucket of paint dramatically overturned by accident, and red paint flooded toward the audience. Most managed to move away in time, and she apologized.
She dipped her hair in a bucket of black paint and drew loops with her head along the paper's length. Finally, she pulled her body along the paper before standing to thank the audience.
The two solo performances were part of TransDance festival. The welly-clad woman was an artist called Deborah Stokes, who according to TransDance founder Adham Hafez has developed her piece for several different contexts, with different questions each time. In this version, some questions clearly echoed the absurd ones the UK Border Agency asks people seeking to enter the UK: "Have you ever experimented with detonating mechanisms?"
The performance suited the venue perfectly. It was engaging and humorous, but also felt angry. In a non-dogmatic way it confronted not only various stereotypes and absurdities, but specifically the costly, intimidating, Kafkaesque procedures that Egyptians have to go through to get permission to visit the UK, which is more often than not refused without any clear justification.
Many artists and exhibitions have reenacted seminal early performance works, and Lilibeth Cuenca's piece was billed as reenactments of such works from the 1960s and 1970s "for the first time in the Arabic speaking world." In reality it was a performance which blended references to other performances from various eras, made into one long engagement with a piece of paper, and thus removed from the complexities and the shock of the original (feminist) pieces.
The initial licking episode was presumably a version of Ene-Liis Semper's "Licked Room," which was first performed in 2001. The second part pointed to Shigeko Kubota's 1965 "Vagina Painting," while the hair-painting bit referenced Janine Antoni's "Loving Care" from 1992.
Cuenca's poem was perhaps more surprising –– especially because it rhymed. It came across like an apology –– for not being new, for not being outrageous, for any possible failure –– because in the end "you can only do what's right for you."
Overall, it was an entertaining and refreshing evening, to which Cuenca's mirror costume lent a touch of glamor. The performances were happily short and there was an informal, friendly atmosphere. Both artists will perform different works on Sunday 14 October at 5:00 pm, also at the British Council.
Stokes' documentary about Indian dance is scheduled to be screened on 17 October at 7pm at Cimatheque, and her short film "Dances of the Border" will be shown in as part of a video exhibition at Medrar for Contemporary Art in Garden City, running from the evening of 13 October until 22 October. Strangely, the artist's web presence is non-existent, which makes one especially curious about seeing her work.