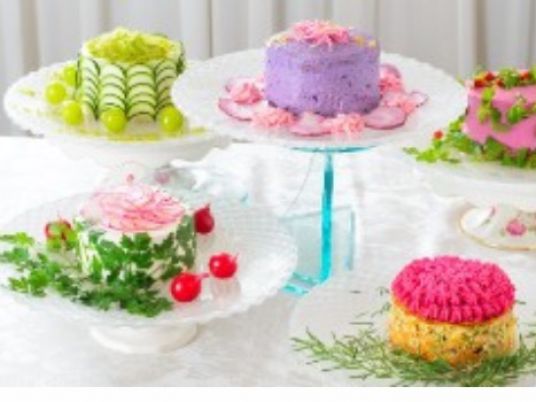 Imagine biting into a beautiful cake, but instead of a sugary rush you get the fresh flavors of celery, carrot and red cabbage.
"Salad cakes" — a new craze in Japan — offer exactly that experience.
Nagoya native Mitsuki Moriyasu, a cafe owner and food stylist, in 2015 invented what she calls the "Vegedeco Salad" (decorated vegetables) as a guilt-free alternative to traditional baked goods.
These sinless sweets substitute cream "frosting" for that made out of tofu, a "sponge" base for one of soy powder, eggs and vegetable oil, while the rainbow hues that decorate the "icing" come from natural vegetable colorings such as red beetroot juice.
Marinated, diced and cooked vegetables such as radish and daikon replace the sponge, while this wheat-free creation uses a traditional Japanese yeast to achieve a subtly sweet flavor.
"It looks like a normal cake — but it's made of only veggies. You can have it for breakfast, lunch — and it's very suitable for dinner with wine," Moriyasu tells CNN.
"Each cake tastes different, depending which vegetables we use — but I would say it tastes like something you've never had before."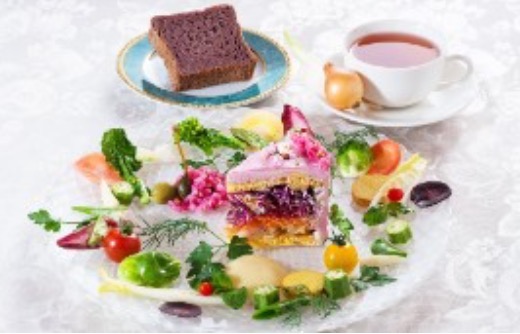 The mother of two was inspired to make these healthy creations, dubbed "Vegedeco Salad", as her sons suffer from food allergies
Have your cake and eat it
So how did the idea for a "salad cake" come about?
Not surprisingly, it was inspired by a desire for healthy eating.
Moriyasu's two sons have food allergies and so for years she had been tinkering with recipes, to find alternatives for sugar and wheat.
"We had homemade meals as I wanted them to eat lots of vegetables, and not take too much sugar," she tells CNN.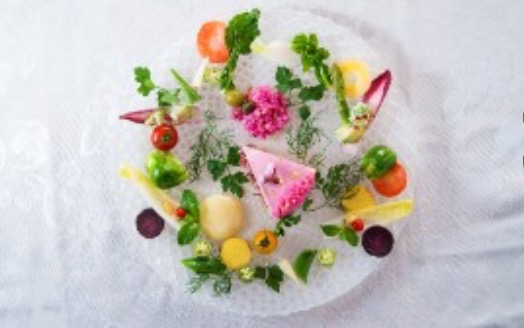 Instead of icing, these cakes are made with a variety of greens — think celery, carrot, red cabbage and daikon
Moriyasu noticed the positive changes that a low-sugar and gluten-free diet made to her own body.
"I felt more refreshed, my mind was calmer, and I was concentrating better," she says.
"I decided I wanted to make something that looks cute, and also has lots of vegetables. So I made a cake — but with lots of veggies."
After she posted the salad cake online, word began to spread and customers flocked to her cafe in Nagoya.
"They are colorful and gorgeous … and the customers enjoy eating them."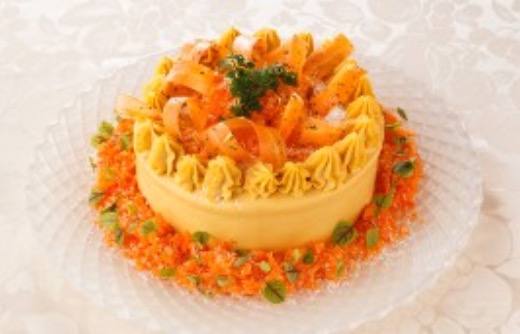 This creation gets its bright colors from carrots. It consists of carrot, white and red radishes and celery. The cream inside? A bagna cauda, made with tofu
A slice of salad cake that serves one has 193 calories, says Moriyasu. For comparison, the average 90g slice of chocolate cake without frosting has 340 calories, according to weight management organization CalorieKing.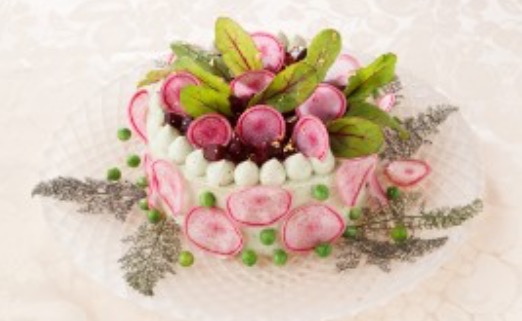 This basil "cake" is stacked with celery, chrysanthemum potato, red cabbage and lotus root, with red turnip, beats, green peas, dill and red sorrel on top
Since the Vegedeco Salad's debut, Moriyasu has created around 50 designs.
"I look at the different vegetables and try to pull out their best characteristic," Moriyasu says. "My inspiration comes from when I think about the shapes and combination of colors of different vegetables."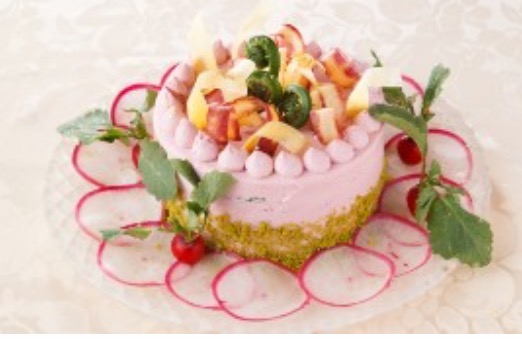 With "icing" made from tofu cream and beets, this cake is made with carrots, Chinese cabbage and avocado, with wild yellow carrots and purple carrots on top
It takes Moriyasu about an hour to make a salad cake.
That process includes making the tofu cream, cutting the vegetables, 15 minutes to assemble the pieces, and finally 10 minutes decoration time at the end.
The key in making it stick together is marinating the vegetables beforehand.
So what is the most quirkiest combination Moriyasu has ever done? "I think it was the salad cake that used matcha (finely ground green tea powder) in tofu cream — it was a very unique taste."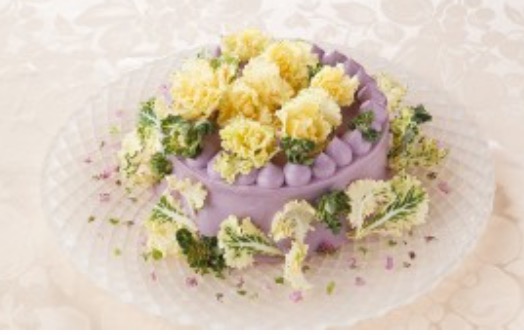 Featuring purple potato flavored with miso, this nutritious creation comes with fennel, burdock, cabbage and taro root, garnished with petit veil
Female fan base
Perhaps unsurprisingly, the salad cakes have a predominantly female fan base.
"[The pink frosting] makes female customers say, 'Cute! I want to try it!'" Moriyasu says.
"On weekdays, many customers are housewives and mothers whose children are at school. We have families on weekends."
The biggest age group to visit the cafe, Moriyasu says, are customers in their 30s.
A huge part of the salad cakes' appeal comes from their appearance — a significant aspect of Japanese dining culture.
"The salad cakes represent attention to detail … and perfectionism," Dr. Merry White, a professor of anthropology at Boston University and scholar on contemporary Japanese culture and social topics, tells CNN.
"Food is, and has always been, a place for creativity and innovation in Japan. Salad cakes are just one manifestation of food play in that nation."
Indulging in something tasty that is healthy has an obvious appeal to Japanese women, White explains.
"Women enjoy sweets, and hope for healthy options. [Having a] sweet tooth is seen to be feminine. These satisfy the appearance of a sweet, and the idea of health."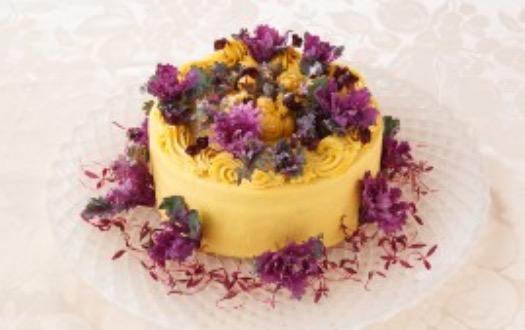 This next-level cake, flavored with pumpkin, has broccoli, cauliflower, beets and purple sweet potato inside, wrapped in yellow cauliflower, purple petit veil and amaranth sprouts
Eat your greens
An "All Vege Set" at Moriyasu's cafe, which includes a slice of cake, gluten-free bread and a cup of tea costs $11.
But she doesn't plan to stop at selling cakes.
The restaurateur has started running classes teaching students how to make these salad cakes at home.
"I think we need to stop and think again about our daily diet. In Japan, we are consuming too much sugar and too much wheat," she says.
"Without using sugar and wheat, I realized you can still have a fun and surprising experience eating a salad that is shaped like a cake.
"Eating beautiful color energize and makes you smile. That's our wish."
To White, these salad cakes reflect the "infinite possibilities" in Japanese food.
"Chefs toss 'chocolate dirt' on a newspaper and offer you a trowel as dessert. There is nothing that cannot be made interesting and delicious."
A slice of salad cake that serves one has 193 calories, says Moriyasu. For comparison, the average 90g slice of chocolate cake without frosting has 340 calories, according to weight management organization CalorieKing.