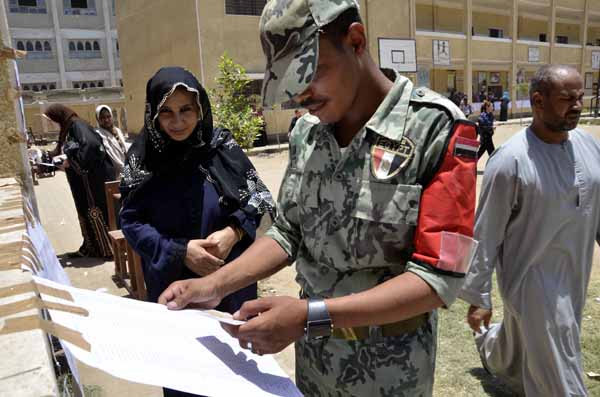 On the second day of the presidential election runoffs, violations by supporters of both contestants were reported. Violations included the collective transport of voters for the sake of one candidate, and ballots cast in advance.
Former Prime Minister Ahmed Shafiq is competing against the Muslim Brotherhood's Mohamed Morsy for Egypt's top executive office.
Public transport vehicles carried voters supporting Morsy in Mallawy and Minya, Al-Masry Al-Youm reported.
ONA news agency quoted Mohamed Amer, head of the committee supervising the elections in Sharqiya, as saying that ballot papers pre-marked for Morsy were found at Hod Nageeh school polling station. This was the fourth such case in Sharqiya, according to ONA, where 24 fraudulent ballot papers and five ballot stacks were seized in two polling stations.
In response, Morsy's campaign said on Saturday that the forged ballot papers were the result of printing errors.
Fifteen ballot papers were found pre-marked for Shafiq in a polling center in Ayyat, Giza. Another three envelopes containing several ballot papers were excluded from the count at the same school after the head of the station found they were pre-marked for Morsy.
An envelope that contained ballot papers pre-marked for Morsy were also excluded at the Saqqara School polling station in Giza.
According to the Egyptian Coalition for Election Observation, observers in Fayoum Governorate saw Morsy voters being transported by auto-rickshaw to several polling stations in Sonoras and Fayoum city.
In North Sinai, coalition observers noted attempts by the Morsy campaign to reach voters outside the Aal Yasser primary school in Arish, and both Morsy and Shafiq supporters did the same around several polling stations, including the Ayesh Al-Asmar School in the third district of Arish.
In Minya, security forces released April 6 Youth Movement member Mostafa Gaber Farag. He had been arrested on Saturday in front of a polling station in Sharqiya at one of the movement's marches in which he was assaulted by Shafiq campaigners for holding anti-Shafiq photos.
Meanwhile, Major General Ismail Etman, a former Supreme Council of Armed Forces member, said the SCAF is impartial with respect to the two candidates, state-run news agency MENA reported.
While visiting a number of polling stations in Kafr al-Sheikh on the second day of the runoff, Etman said stringent measures have been imposed nationwide for the security of the electoral process.
Etman added that extra precautions have been taken to face any second day violations. He said any violations aimed to disrupt the electoral process will be dealt with firmly and decisively.