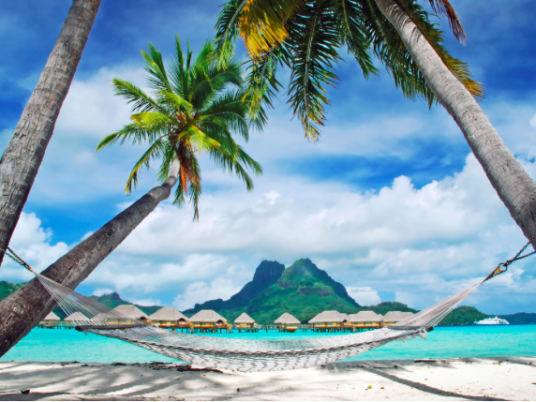 Bora Bora is the most popular travel fantasy on bucket list app.
Walking along the turquoise beaches of Bora Bora in Tahiti has been the most popular travel fantasy shared on an app developed to help users curate their own travel bucket lists.
After looking at the most shared, liked and uploaded images on the BUCKiTDream app throughout the month of August and part of September, developers found that, more than snorkeling the Great Barrier Reef or embarking on an African safari, Bora Bora has been capturing travelers' imagination over the last few months.
The platform is designed to allow users to share their travel fantasies and curate their bucket lists with fellow users, but is also used by merchants to send targeted deals and packages.
The app launched last year with the powerful endorsement of Sir Richard Branson and a special promotional package that included a five-day vacation at Branson's exclusive Necker Island in the British Virgin Islands with the entrepreneurial titan himself.
Meanwhile, though Tahiti edged out Australia on the BUCKiTDREAM app, Oz topped a list of top 10 dream destinations for wealthy travelers, compiled by luxury travel network Virtuoso earlier this summer.
Check out some of the ideas from BUCKiTDREAM's list of top 10 travel fantasies:
1. Walk the beaches of Bora Bora, Tahiti
2. Experience Australia, Go snorkeling in the Great Barrier Reef
3. Summer Holiday in Santorini, Greece
4. Road trip across America (USA)
5. See The Northern Lights (Norway)
6. Visit the Eiffel Tower in Paris, France
7. Go on an African Safari
8. Tour the Coliseum in Rome, Italy
9. Visit the Great Wall of China
10. Vacation at the Bahamas.