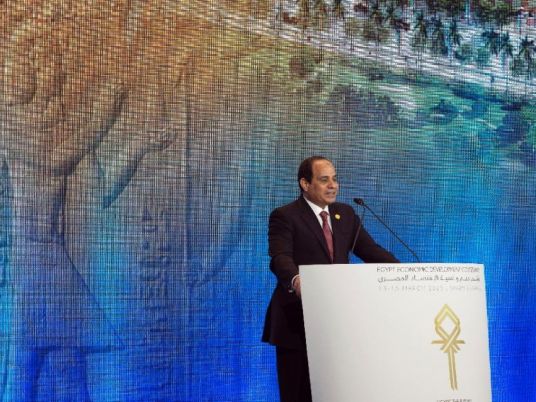 Which country's stock market delivered the best returns for investors in 2014? In spite of its struggling economy and tumultuous politics, Egypt's bourse managed to beat all comers, its index rising nearly 30 per cent in dollar terms.
Investors piled back into the market in the belief that President Abdel-Fattah al-Sisi, the military strongman who has ruled Egypt since ousting the elected President Mohamed Morsi in 2013, would restore order to the country after years of upheaval that had wrecked the economy.
Sisi has consolidated power and ruthlessly crushed dissent. His firm rule and program of economic development have also attracted much-needed investment. Freedoms must be sacrificed in the service of progress, the president argues.
For now, at least, he may feel vindicated. Most of Egypt's indicators are pointing in the right direction. Economic growth rose to an annualized 5.3 per cent in the first half of this fiscal year, compared with 1.2 per cent in the same period the year before. Unemployment, still painfully high at around 13 per cent, is falling.
The return of investors may be the most telling sign of renewal. Foreign direct investment is up by nearly 140 per cent year-on-year, albeit from a low base. With a budget deficit more than 11 per cent of output and a debt-to GDP ratio near 95 per cent, Egypt's government needs foreign money.
Some $12.5 billion in new aid and investments has come from Gulf states that endorse Sisi's politics, but the president also has wooed more profit-driven investors by claiming to have provided stability to Egypt. At a conference in March, he announced commitments worth billions of dollars, mostly in the energy and real-estate sectors. B.P., the British oil giant, called its new $12 billion project "a vote of confidence in Egypt's investment climate." Coca-Cola has pledged to spend $500 million in Egypt during the next three years. Majid Al Futtaim, a Dubai-based retail operator, has increased its investments by about the same amount. In April Moody's, a credit-rating firm, upgraded Egypt's rating.
Investors like Sisi's fiscal and economic reforms. He cut fuel subsidies, which has lowered the deficit and allowed Egypt to pay more for natural gas. That, along with the payment of old debts, has lured firms such as B.P. back to the energy sector. The government hopes that the new investment will ease the electricity shortages that have deterred investment in other sectors. Sisi also has approved measures that aim to cut red tape and improve the way legal disputes involving companies are resolved.
Yet much work remains. Egypt still ranks 112th on the World Bank's ease-of-doing-business index, behind Zambia and Swaziland. Investment Minister Ashraf Salman admits that, in order to start a company, investors must get permits from 78 different agencies. It can take as long as five years. The government has promised to create a one-stop shop for such approvals, though only by the end of next year.
Reforming the bureaucracy is "easier said than done," said Karim Awad of E.F.G. Hermes, an investment bank.
More uncertainty surrounds taxes. The government has promised to lower the maximum rate for individuals and corporations to 22.5 per cent for the next decade. Only last year, however, the rate was hiked from 25 per cent to 30 per cent, supposedly for three years. Investors also complain about a new 10 per cent tax on share dividends and capital gains.
The foreign-exchange system may be the biggest problem. Dollars have been in short supply since the Arab spring, due to declines in tourism and foreign investment. When the Egyptian pound appeared overvalued last year, black-market traders began selling dollars at a premium. In order to wipe out the illicit trade, the government allowed the pound to depreciate and placed restrictions on bank deposits and withdrawals in dollars. Now, though, a drop in the value of the euro, the currency of Egypt's biggest trading partner, has again made the pound look expensive. The back-alley traders have returned.
Egypt has allowed the pound to weaken by around 8 per cent in the past year. The currencies of two competitors, Morocco and Turkey, have dropped by around 20 per cent, however, making their goods and services better deals. Besides, those countries rank 55th and 71st respectively in ease of doing business. Morocco, which like Egypt features low wages and good transportation links, has attracted big investments in manufacturing via generous tax incentives.
Some also note that authoritarianism is not synonymous with stability. The president's crackdown on dissent has pushed grievances underground. Security concerns are rising, along with scattered bombings, not only in Sinai, where jihadists are most active, but also, from time to time, even in Cairo. Activists predict more upheaval unless Sisi loosens his grip, but there is little sign that he will.
Parliamentary elections were postponed indefinitely in March. The uncertainty sent the stock market to a four-month low last month.