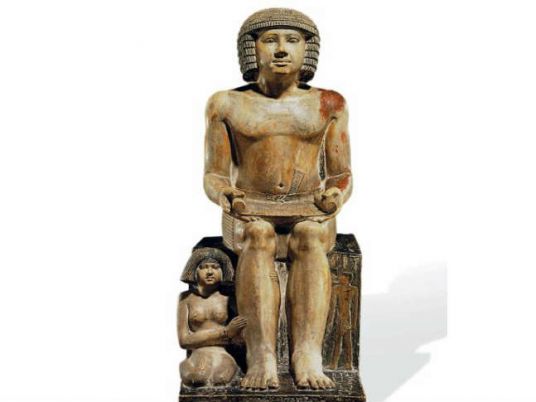 The Antiquities Ministry has not received so far any donations to buy back the 4,000-year-old Egyptian statue of Sekhemka before it is being sold on August 28, Director of the Restored Antiquities Department Ali Ahmed said.
Antiquities Minister Mamdouh Damaty launched a fund-raising campaign to collect 15.8 million sterling to restore the ancient statue sold at auction by Christies in London last year.
The painted limestone statue of an Egyptian royal scribe called Sekhemka was sold at an auction in July 2014 to an unknown buyer for nearly $20 million by Northampton Museum to help fund its renovations.
Ahmed told MENA that the ministry addressed the Foreign Ministry to convey to the British side Egypt's keenness on stopping the sale of the statue and extending the August 28 deadline, granted by the British Culture Department, till March of 2016.
Arts Council England has ruled the sale breached the accredited standards for how museums manage their collections.
Those who want to donate have to contact the antiquities minister's office in Cairo to hand their donations to officials responsible for the fund-raising campaign, Ahmed said.
The statue of Sekhemka was given to Northampton Museum by the Marquess of Northampton in the late 19th century.
The Sekhemka statue is a tomb model of a high official, wearing a short kilt and tight-fitting wig, surrounded by his wife, son and seven offering-bearers. He holds a papyrus on his knees on which are inscribed a list of offerings designed to serve the needs of the dead, including beer and cakes.
On Sunday, the Egyptian Ministry of Antiquities has decided to suspend dealing with Northampton Museum over its controversial selling of the statue