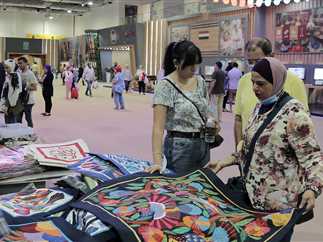 In only the first few hours of opening its doors, the Torathena (Our Heritage) handicrafts exhibition sponsored by President Abdel Fattah al-Sisi at New Cairo's International Exhibition Center witnessed a remarkable turnout from the public, rewarding the optimism of the event's exhibitors and organizer MSME Development Authority.

Wood product industry worker Rania Salem said she was optimistic about her participation in the exhibit for the second time in a row, as her participation last year won her excellent sales, new customers and finalized contracts.
Salem told Al-Masry Al-Youm that rent hadn't been an issue as she had set aside a certain budget, and succeeded in finding a suitable space within it. The rent was also not as high as in other exhibitions as the prices were subsidized, she added.
"The president's interest in sponsoring the exhibition and inaugurating it himself was an important message that…reflected the state's keenness and serious interest in supporting owners of small enterprises, especially in light of the current circumstances," Salem explained.

Mai, a student in the third grade of high school, stands in front of her space at the exhibition, passionately informing customers about the quality of products by the "Sindawil Island Families" in Sohag.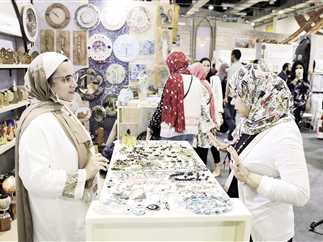 The Sindawil families, she said, decorate their fabrics with silver threads to produce products such as clothing, shoes and women's bags.
The 2020 edition of the Torathen  exhibition is the largest of its kind, comprising about 620 exhibitors, and held on an area of ​​10,000 meters, according to the Director of Exhibitions at the Small, Medium and Micro Enterprises Development Authority Tariq Sabour.

Sabour added to Al-Masry Al-Youm that the authority has offered services for the first time such as a QR code that provides visitors with information about exhibitors, their products, their stores and contact information.

The authority offered subsidized rent fees, equivalent to 75 percent while the exhibitor pays 25 percent, he said.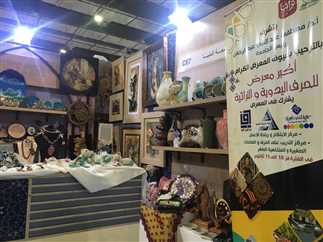 Edited translation from Al-Masry Al-Youm